Singer-songwriter and recording artist, Michael Stosic began his recording career in 1982 with his blue-eyed soul, rock/pop self-titled album. This very obscure album was recognized years later as an AOR masterpiece and Michael was signed by P-Vine Records of Japan in July of 2020 to reissue this album world-wide.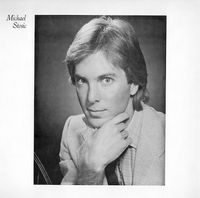 A miracle reprint. The refreshing breeze of the west coast comfortably tickles your ears.
American singer-songwriter Michael Stosic, who is currently active in the Gospel/CCM scene, released his first self-titled album in 1982. The original LP is rare and contents wonderful songs that will please "Soft Rock" fans. Sounds featuring brilliant horns, strings and high-level arrangements. Musicians are Tony Savage, Ray Kinman, Buddy Emmer, Jerry LaCroix, Mark Ishikawa, Jim Stipech, Lynn Groom, Scott Young, Larry Kinman. 
From light mellow AOR to light urban boogie and sweet ballads, this is a masterpiece boasting rare music quality that sets it apart from most reissues!
Posted by Arnaud LEGER on August 19, 2020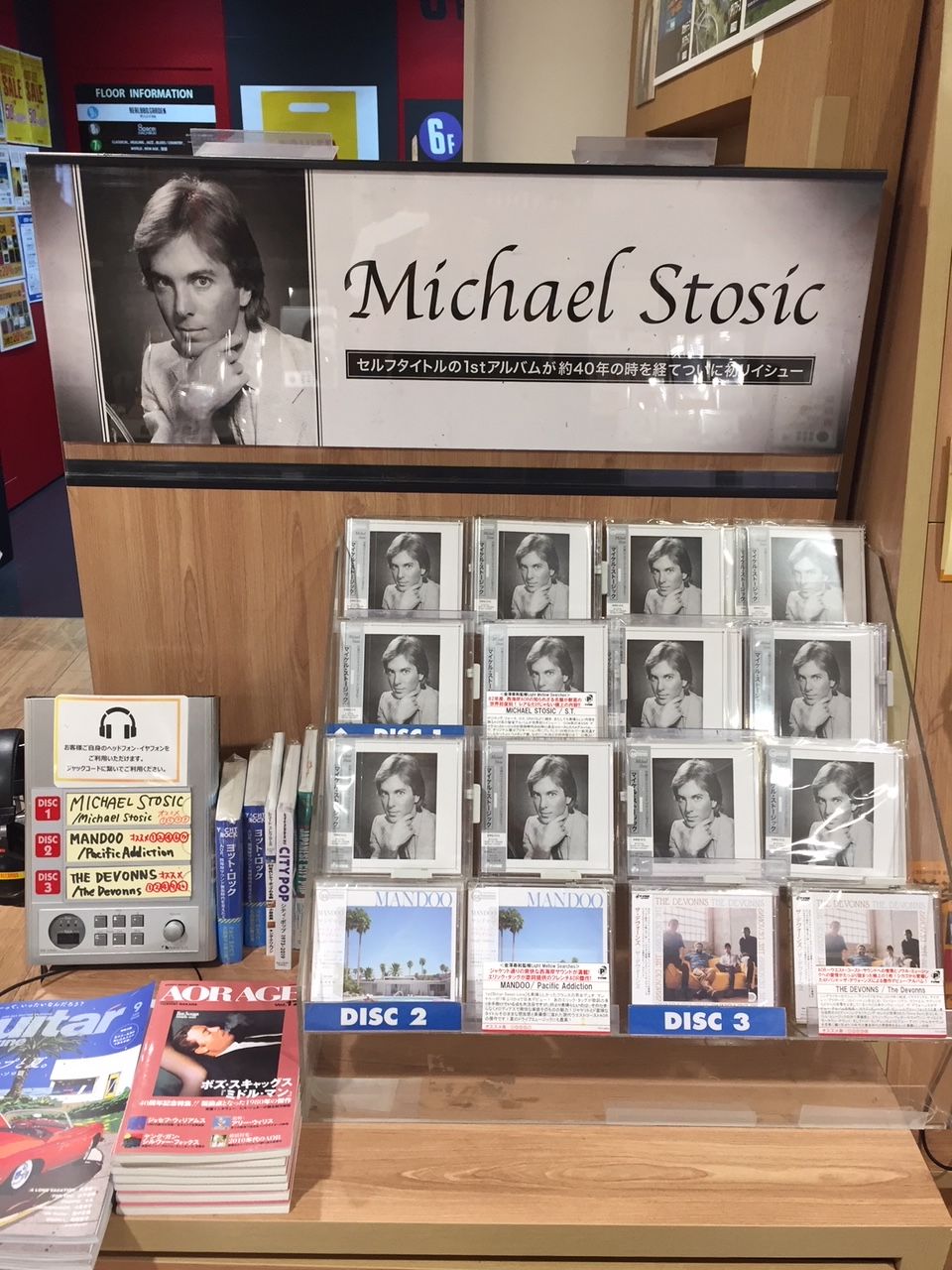 Tower Records Shibuya Japan
New Michael Stosic Album Recalls Hall & Oates With Added Jazzy Touches
SOURCE: ERIC TAYLOR
In these days of frivolous studio hooks, the lyrics are in danger of becoming a lost art. The best pop music tells a story, often utilizing the universal language of love. Singer/songwriter Michael Stosic is well aware of this, producing a smoothly crafted Adult Contemporary effort, a self-titled album.

"The way you look at me with your cold-black eyes/Why do I always have to melt inside?" laments Stosic on "Backstreet Dancer," a moving tale of unrequited love. "Backstreet Dancer" encapsulates Stosic's primary style – sleek, jazzy grooves enveloped by tasteful guitar and romantic sax. It is the stuff of AM radio gold, a throwback to a more innocent time in popular music. 

The blue-eyed soul and '80s gloss of "If You Ever Change Your Mind" is another of the CD's highlights, recalling the heyday of Hall & Oates. On "Tell Me You Love Me," Stosic's soulful voice is beautifully captured by the sleek production; it's as smooth as molasses. "Easy Come Easy Go" is gorgeously rendered adult pop, its acoustic prettiness blending effortlessly with the sublime piano. Stosic has quite a voice, brimming with passion and real emotion. The light funk of "Can't Say No" and sweeping beauty of "Be Easy Love" cuddle the heart, helping elevate this record to among the year's finest.
__________________________________________________________________________________________
Contemporary Christian Music
 Michael Stosic entered into the Gospel/Christian music world in 1986 when he wrote and recorded his first Contemporary Christian album titled "Brand New Love", which became an instant hit with listeners on the West Coast due to play in Seattle Washington from Spirit 105.3FM KCMS Radio. Three of Michael's songs from that album were entered into the Christian Artists International Songwriting Competition and all three songs finished in the Top 10. Then Michael's song "Surrender" won the KCMS Peoples Choice awards in Seattle. Michael was then selected as one of the Top 16 New Christian Artists in the Country by Praise Ministries in Los Angeles and was invited to perform with Pat and Debbie Boone at the Anaheim Convention Center for Praise Celebration 87.
Soon after the release of his debut Christian album, Stosic's second album "Symphony of Praise" reached listeners all across America and 118 other countries including Communist China. The success and response to Michael Stosic's songs in the Christian music world became evident to him after the release of his third studio album "Psalms From the Heart" in 1992 receiving letters and phone calls from fans across America who gave him praise for his music.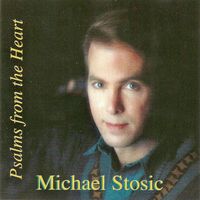 A decade after the release of "Psalms From the Heart", Stosic was invited to Zimbabwe to put on concerts for the people; touring the land and even making a stop to sing for children at an orphanage. Upon returning back home to the United States, he was saddened to receive a call from the pastor running the orphanage informing him that 3 of the children he had interacted with had passed away from malnutrition. Being overwhelmed by the heaviness of the news, Michael decided to get more involved with the country of Zimbabwe and the children that live there. He soon teamed up with the Indiana based non-profit organization Feeding The Nations and The River Christian Church in Reno, with their help he took part in getting a shipment of 286,000 meals sent to Zimbabwe for the people in need.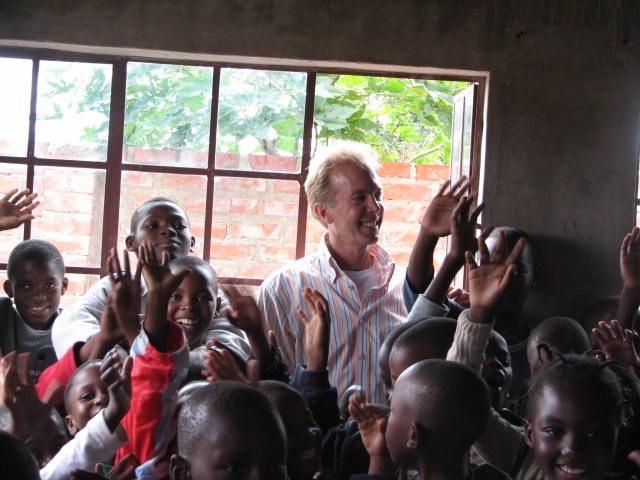 "I Believe (Gospel Remix)" – Michael Stosic feat. Gordon Chambers
By Libra Boyd
Gospel Music Fever
Singer/songwriter Michael Stosic has released a gospel-tinged remix of the Christian adult contemporary single, "I Believe."
In his self-penned tune, Stosic–whose voice has been compared to Barry Manilow–steadily and melodically makes his way through a lyrical list of affirmations, both positive and poignant: "I believe in God…I believe He is love… / I believe we live in a world filled with darkness / I believe we can shine love's light…"  His message is accentuated in the chorus, where Grammy-nominated singer/songwriter Gordon Chambers (Yolanda Adams, Beyoncé, Whitney Houston, Usher) chimes in on the lead vocals.  Background singers Rasul A-Salaam, Cassondra James Kellam, Helen White, and Monet Ulerio celestially echo Stosic and Chambers' sentiments: "I believe in love."
Noted Achievements
2017 was a tremendous year for Michael! January 17th he was nominated for the 2017 New Music Awards as the AC New Artist of the Year! The New Music Awards are from New Music Weekly Magazine out of Nashville, Tennessee.
Self-released as a single in May of 2017, Gospel Train had been downloaded by over 1,900 radio stations world-wide. His song debuted in both Country and Christian Top 20 Stream Chart for radio through Daily Play MPE.
Here is what some of the program directors said about Michael's single Gospel Train.
"Stosic is definitely going places" / "Slick sounding tune, very good musicians."
"Looking forward to hearing more of his music." / "Awesome! Thank you for the introduction."
"Bravissimo! Will put the single on our June playlist." / "On board with this release, thank you, loved it."
"Vocals are top notch." / "Great vocals, direct and to the point." / "Building quite a following here in England."
"Charting in the Top 50." / "Now we're talking  this guy is awesome." / "One of my favorite acts to come my way in a long time."
December 25th, 2017 Michael placed three songs in the Top 100 Christian Songs for 2017 by Sort Hits Radio Tracker. Michael's song "He's Alive" was #13, "Gospel Train" was #21  and "Teach My Children Well" was #25.